Installing FitBit Watch App
Installing FitBit Watch App Updated ⌾ TEAM KOS
The Fitbit connection to KOS requires you to have a Fitbit account. You must have this created and set up already. The authentication uses the login credentials of your Fitbit account to authorize the connection to KOS. 
Whenever you record a new body measurement – steps, sleep, body fat, body weight, lean mass, blood pressure or resting heart rate – it is saved in your Fitbit account on their mobile app. From there, it's instantly synced to the KOS client dashboard as a new body stat measurement.
How to sync to FitBit:
1. Navigate to the More tab at the bottom right on the mobile app menu, select Fitbit and tap on Connect to log in to their Fitbit account.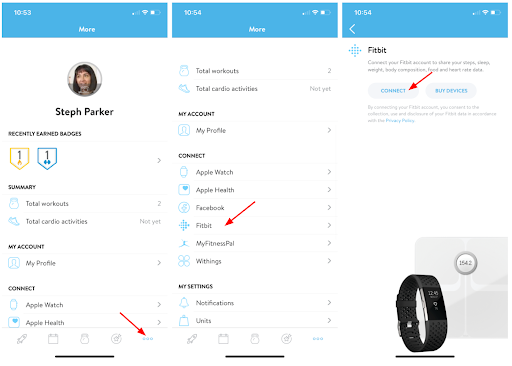 2. Be sure to select the Allow this app button to move forward with the connection.